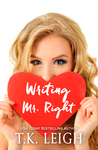 Writing Mr. Right
by
T.K. Leigh
My rating:
5 of 5 stars
This is so much more than just a romantic comedy. I've laughed out loud and I've balled my eyes out.
The subject is very close to heart for me as both my grandparents suffered with Alzheimer's but TK has done a fantastic job writing this story.
Your also left wondering how alike are Molly and TK???
View all my reviews